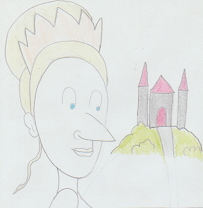 The Big-nosed Princess
Read the fairy tale, listen to the voice-over, enjoy the illustrations, and play video games!
And so, Solon Papageorgiou presents the 5th issue of Fascinating Dreams, Fascinating Dreams 5: The Big-nosed princess.
Synopsis: Fiona, the princess wants to get married. Find out what happens next.
Slideshow
---
Fascinating Dreams 5 Games Only.
If you prefer only to play the games, click on "Start":
---
Fascinating Dreams 5 Fairy Tale Only.
If you prefer only to enjoy the story, click on "Start":
---
And here is the text and audio of the fairy tale:
Fascinating Dreams 5: The Big-Nosed Princess
Once upon a time, there was a princess named Fiona. She lived in a beautiful and wealthy kingdom. Her parents were kind and loving, and she grew up with love and protection. Fiona was intelligent and funny. But she had a big nose. When she turned eighteen, she wanted to get married.
Bachelors and bachelorettes of the royal court met their counterparts from other kingdoms during special festivities organized by the kings of the whole continent. These annual festivities lasted for an entire day, from dawn to dusk.
They had many activities: eating fancy meals, drinking juices made of exotic fruits, singing, dancing, and playing games. They also had comedians who made them all laugh. The bachelors would meet the bachelorettes, and soon after the festivities, they would get engaged and married.
The day of the festivities was significant to Fiona because she wanted to get married. So when the big day finally came, she bathed, put on her best dress, applied her makeup, and sprinkled some perfume on her neck. This year, it was the turn of her father, the king, to host the festivities. Fiona joined the party and met a variety of bachelors, but nobody wanted her because of her big nose. Her female cousins found their companions, but nobody showed any interest in Fiona. She has been sad ever since.
One day, a new hairdresser came to the palace to cut her hair. He was funny, handsome, and engaging. It was love at first sight, and the hairdresser did not care that her nose was big. Fiona fell in love with him, and he fell in love with her. They wanted to get engaged and then married.
But the law of the land dictated that if a princess married a commoner, she would lose her title.
Nevertheless, they got engaged and then married. Fiona lost her title, but she did not care. And she did not care that she could not get married to a member of the royal family. She came to realize that happiness was more important. And so, Fiona and the hairdresser lived happily ever after.
The End